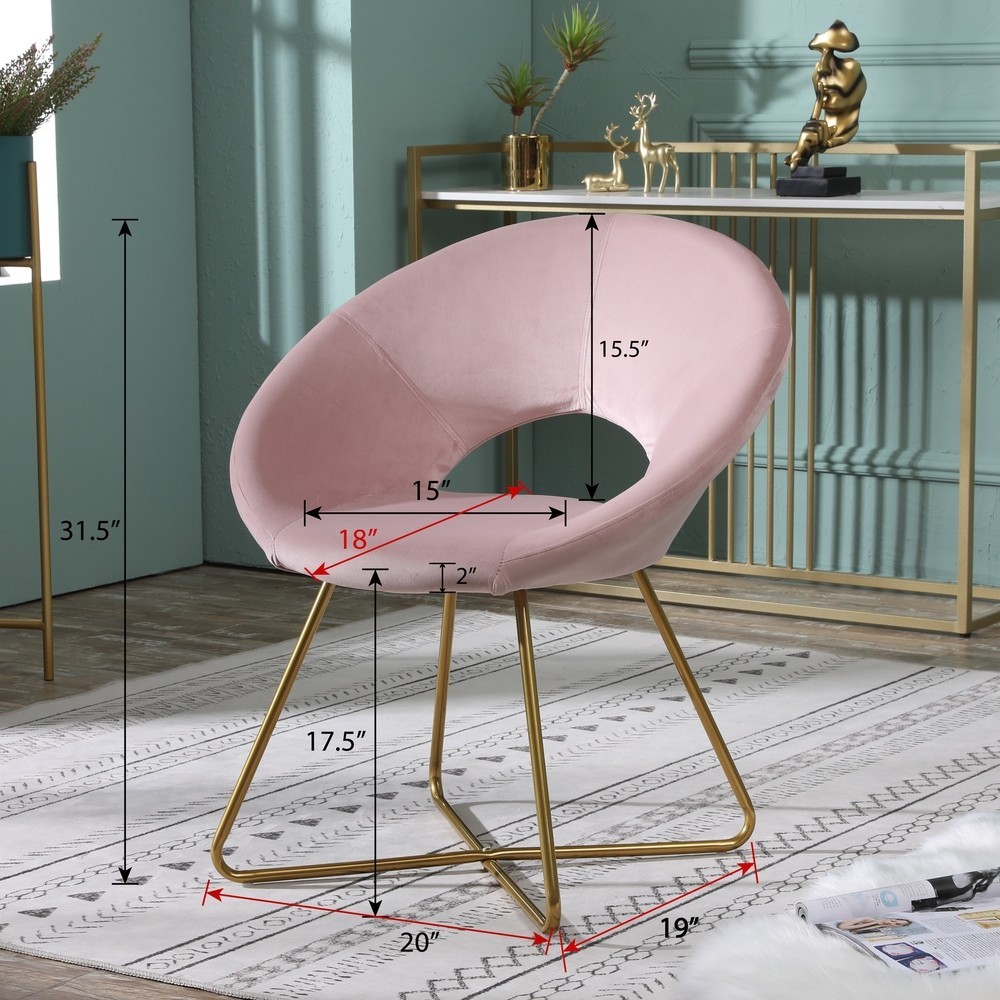 Furniture Guides | Accent Chairs
7 Cozy Round Chair Styles For Every Room In Your Home
1. Papasan Chairs
2. Barrel Chairs
3. Balloon Chairs
4. Swing Chairs
5. Bean Bag Chairs
6. Round Bar Stools
7. Round Balance Ball Office Chairs
Choose the Right Combination of Comfort and Style
There's nothing better than curling up in a comfortable chair with your favorite book, a blanket, and a steaming cup of tea. A round chair will allow you to sink back and relax without any uncomfortable corners poking into your back. They will soften sharp edges and lines in an interior for a more subtle and cozy look.
Round chairs are fantastic in every room. They come in various sizes, styles, colors, and fabrics, so you can choose the one that fits your existing style best.
Check out these seven cozy round chair styles, whether you're looking for your living room, kitchen, office, or bedroom.
Papasan Chairs
If you want something for your porch or sunroom, try Papasan chairs. These bowl-shaped chairs are usually adjustable, making them comfortable for people of all shapes and sizes.
The cushion sits in a wooden, rattan, or wicker frame. Choose your favorite color and fabric for the cushion to match the room. If the chairs are for your porch, rattan is an excellent choice since it's relatively weather resistant. Just bring the cushions inside if the weather turns, or opt for outdoor-rated fabric.
There are also more modern versions of Papasan chairs available. These are less versatile since the cushion is often attached to the frame, but more appropriate for your living room. Many of these versions come in velvet or leather, and they are usually relatively close to the ground, creating a cozy nest to relax.Silky Velvet Pink Papasan Chair
Barrel Chairs
Barrel chairs are a great option for your living room. They're U-shaped, and usually have wide enough seat that allows for curling up under a throw. Like Papasan chairs, barrel chairs come in various fabrics and styles.
One popular option is the swivel barrel chair, which children and adults alike will enjoy. These often come with plush cushions and higher backs, upping the comfort level.
Other barrel chairs have matching ottomans, making them the perfect relaxation chair. You may find yourself having a quick nap here instead of a bed.
You can find this type of chair in a wide variety of materials, including leather, velvet, and fabric, making it easy to match any decor. There are also many styles available. Whether you want something modern, rustic, or artsy, you'll find a barrel chair for you.
Faux Leather Barrel Chair in Black
Balloon Chairs
For the adventurous homeowner, balloon chairs are a fantastic statement piece for your living area. Also called Egg chairs, their defining feature is the back's inward curve, which creates a cozy cocoon-style seating.
Although some balloon chairs have taller backs with a gentler slope, this is more common in traditional-style models. If your home is modern and sleek, balloon chairs with a glossy plastic exterior shell will give it an interesting edge while remaining cozy and comfortable inside.
The rounded back is often covered with a soft fabric, with extra seat and back cushions to make your experience more comfortable. These chairs come in many sizes and designs, and some include a swivel option.
Swivel Balloon Chair in Dark Blue and White
Swing Chairs
Swings are no longer just for children. Now, you can purchase chic swing chairs that support the weight of an adult for your home. There are two versions of swing chairs to choose from one. The more traditional type hangs from the ceiling and is better suited to an enclosed porch or sunroom.
The other option hangs from a curved metal stand, making it more portable and ideal for your living room or reading room.
These innovative chairs allow you to sway gently while reading or watching TV, lulling you into relaxation. Try a rattan style swing chair with a lush linen seat cushion for a boho-luxe home. Opt for a clear acrylic design with metal accents and monochrome cushions for a retro-mod vibe.White Swing Chair
Bean Bag Chairs
Bean bag chairs are making a comeback. They're lightweight, great for kids, and even better for dorm rooms. If you want some extra seating options for family get-togethers, bean bag chairs will add a relaxed look to your entertainment room.
They come in all shapes and sizes, and the beans inside mean they conform to your body. A few of the options out there also come with some more structure, creating a backrest for people with back problems.
These chairs come in every color imaginable, plus a few novel designs, including soccer balls and basketballs. To keep the look streamlined, opt for a bean bag chair upholstered in modern microfiber or linen.
Standard Classic Bean Bag in Pink
Round Bar Stools
If you've got a kitchen island or a bar, you need a few barstools. Round bar stools add class to any kitchen. You can choose from minimalist white round stools with a slight indent to a round upholstered model with a comfortable back.
You can find a round bar stool to fit any kitchen's aesthetic. Whether you want something reminiscent of a speakeasy, something futuristic, or something that's easier on your back, there are options available. Try a height-adjustable brass-finish stool with red vinyl upholstery for a classic diner feel in your kitchen. Add glamor to your home bar with tufted leather on hairpin legs for a mid-century modern aesthetic.
Try to find a bar stool with a footrest for the shorter members of your family. A footrest can make the difference between a cozy bar stool and uncomfortable dangling legs.
Swivel Counter and Bar Stools
Round Balance Ball Office Chairs
For those that work at the computer all day, it can be difficult to get enough exercise. A round balance ball office chair can help. These chairs look like a yoga balance ball, except with a stable bottom. They are designed to help you activate your core muscles and improve your balance.
Have one of these in your home office and switch between the ball and your standard office chair for thirty minutes or an hour a day to increase your core strength.
Ergonomic Ball Chair for Kids
Choose the Right Combination of Comfort and Style
There are so many round chair styles available on the market that you're bound to find something comfortable and in your favorite style. Round chairs are also fantastic for families with young children since they don't have any dangerous sharp edges. The dull, rounded edges will be less likely to cause a dangerous head injury if your child runs into them.
---
Post time: Aug-01-2022